IT audit
Diagnostics of your IT infrastructure, security, servers, networks and business applications. We identify risks, help to eliminate them and reduce downtime in business processes.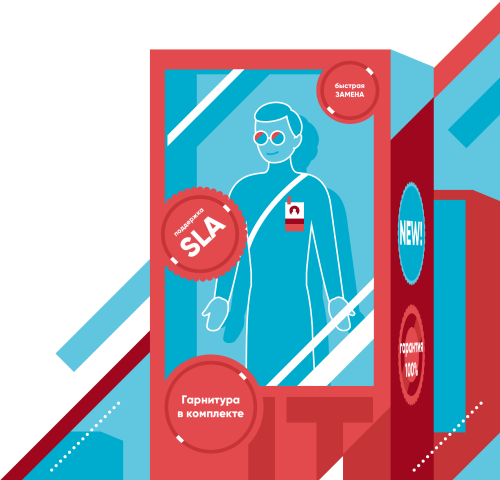 How it works
4

We report and make recommendations

3

We conduct an audit

2

We conclude an agreement

1

We make a commercial offer
Advantages
Accelerates business processes

We audit not only your IT infrastructure, but also processes indirectly related to IT. We check how secure business processes are and identify potential problem points that can cause downtime for the company.

Assesses risks

During the audit, we find out how the security of information infrastructures actually works. Does your server have a backup? Is your telephony protected? Do you overpay for services that you do not fully use?

Helps your IT professionals

We give a convenient recommendation list to your IT specialists. We emphasize the detected problems; share our assessments and recommendations for their elimination.
We will help small and medium enterprises to identify growth points, scale their business and protect them from data loss.

We know the specifics
of your business

For 17 years, we have worked with five hundred companies in different industries and areas.

We optimize
resources

We will determine the real needs of your business and present solutions that will not hit your budget where it hurts.

We provide reports

We will present a detailed analysis of your IT infrastructure and indicate all the problems ranked by priority.

We keep confidentiality

We will sign a non-disclosure agreement with you so that all your valuable data remains inside your company.

In manufacturing companies, we act as the main assistant and partner in IT issues. We will check the problem areas and consult you on how to eliminate them properly.

Adjust the speed of 1C

We will give recommendations on optimizing 1C and installing necessary software to reduce the downtime. We will establish quick and effective communication between departments.

We will update your equipment fleet

We will take an inventory count of all your equipment and tell you what needs to be updated and what can be resuscitated.

We will build
the infrastructure
for your new branch

In case of expansion of production, we will give our recommendations for the smooth integration of branches.

We level the risks

We will identify weak spots and potential problem points in order to prevent the leakage of important information.

We will help your managers to control the time and workload of employees in remote branches or outsourcing specialists.

Adjust the speed of 1C

We will provide a specialist who will test how 1C works and give recommendations on eliminating downtime.

We audit branches

We will examine the main problems and needs of the company's branches. We will share our recommendations for optimizing the IT infrastructure with the management.

We learn how
your security works

We will prevent the threat of cyber-attacks and data loss by examining all the risks of leakage. We will diagnose external and internal communications.

We will increase the level of satisfaction with
the IT department

We will give proactive recommendations and increase the level of satisfaction with the IT department in the company.

We will conduct an express audit and draw up a detailed report so that the head IT department is aware of how the representative office infrastructure works.

Conduct a basic
security audit

We will check the networks, connections, and server infrastructure in regards of fire safety. We will make a written and photo report for the head office.

We communicate
in English

All our specialists undergo regular certification in order to increase their expertise in IT. If necessary, they can provide their services in English.

We take care
of communication
with the head office

We work under the management of the main IT departments and adjust our processes and standards for you.

We solve problems
on our own

If necessary, we will perform service procedures right on the spot: we will remove the server cabinet, put the wires and connectors in order.
Convenient and understandable report forms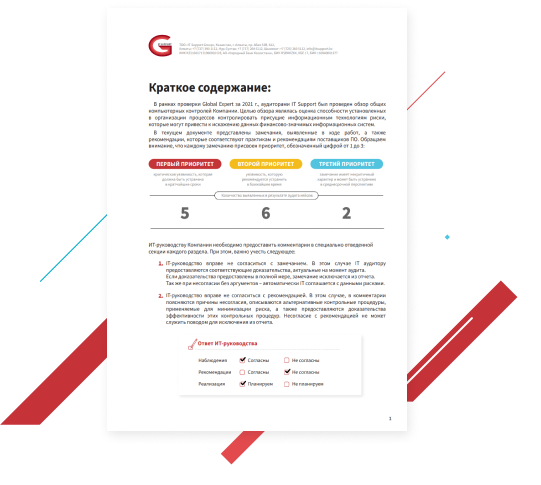 After our IT professionals complete the audit, you receive a detailed report that includes diagnostics of all points of the IT infrastructure. The report is sent as a pdf-file for further work on the recommendations.

Скачать шаблон аудита
Calculate the cost for your company
Leave a request to get a free consultation on the cost of an IT audit for your company.
What else you need to know about IT audit
Business information security
What is business information security and how to ensure it? Information security is a set of measures that you take to protect your confidential data, developments, ideas, technologies and, eventually corporate money.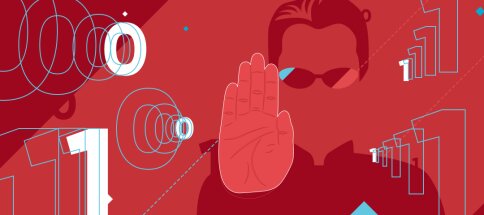 How to defend against cyber-attacks?
News of another data breach due to a cyber-attack on large companies appears almost every day.
You might be interested in
Servers/LAN
Installation, configuration and maintenance of server and network equipment.